Rabbit & Bacon x 6
320g (average weight)
Pub Range Pies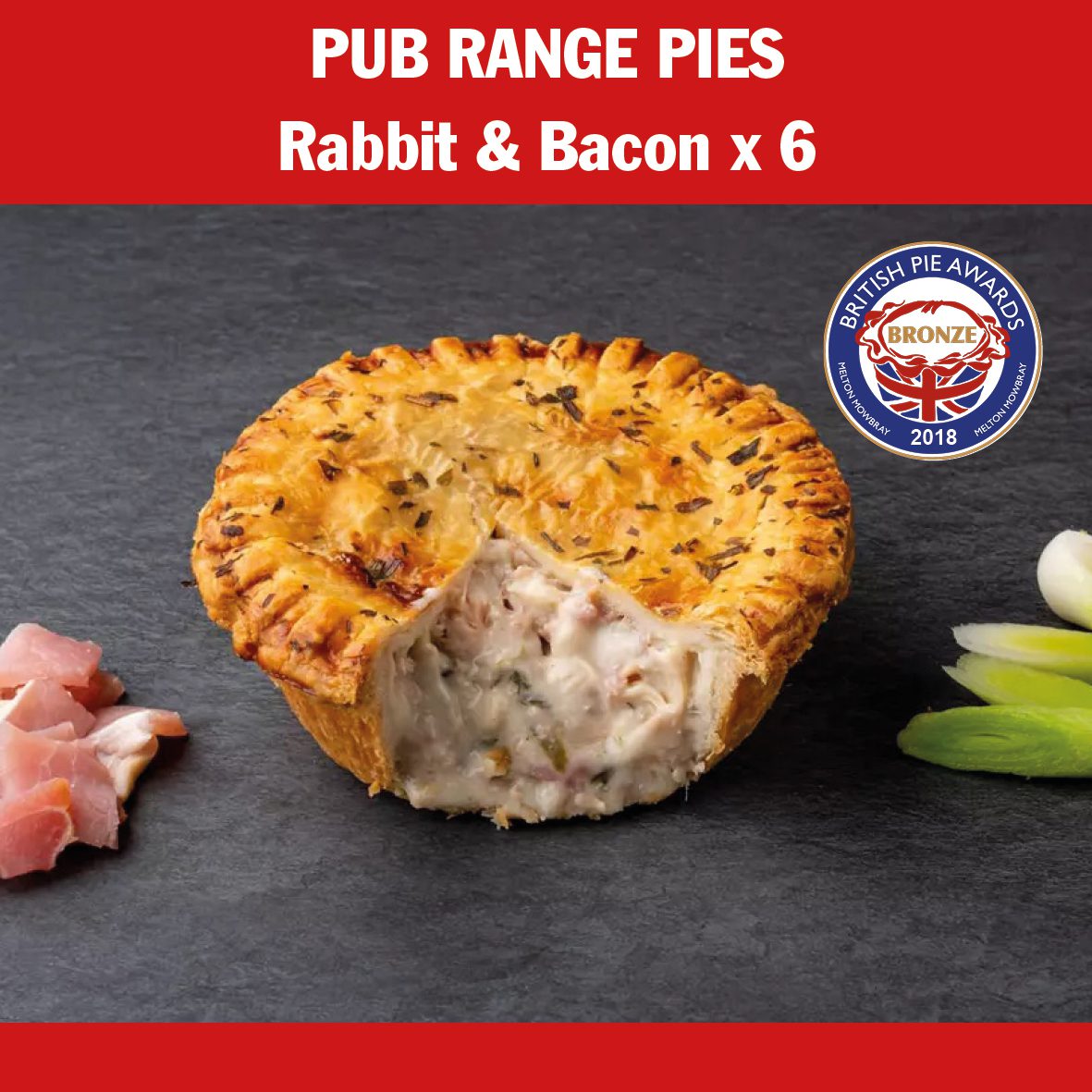 All our Pub Range Pies are baked fresh to your order and come with 7 days chilled life. If required they will freeze perfectly.
You may order as many boxes from across our ranges that you wish.
On checkout, a £6.95 delivery charge applies, but if your order is over £35.50 then delivery is free.
Around £40 is all you pay for 12 (or more) of these fabulous pies delivered free to your door.
Boneless rabbit, bacon & leeks in a white tarragon sauce
topped with a tarragon puff pastry lid
Ingredients
Beef 32%, Wheat Flour (WHEAT flour, E170, Iron, Nicotinamide (vit B3), Thiamine Hydrochloride (vit B1), E110, Preservative Ascorbic acid) Cake Margarine (Vegetable Oils (Palm, Rapeseed), Water, Salt (2%), Emulsifier: Polyglycerol Esters of Fatty Acids, Colours: Curcumin, Annatto, Flavouring) Pastry Margarine (vegetable oils and fats (palm; rapeseed); water; salt (1.5%); emulsifier (lecithins; E471); acid (citric acid); flavouring; colour (carotenes) Mushroom, Longman old man Ale, Onion EGG, Potato starch (Starch acetate), Beef Stock (Beef Stock (Water, Beef Extract, Onion, Tomato, Carrot Extract, Herbs, CELERIAC, Spice, Garlic), Salt, Glucose Syrup, Flavourings, Maltodextrin, Yeast Extracts, Rapeseed Oil, Colour (Caramel), Sugar), Pepper, Salt, Caramel colour, Mature Cheddar (MILK),